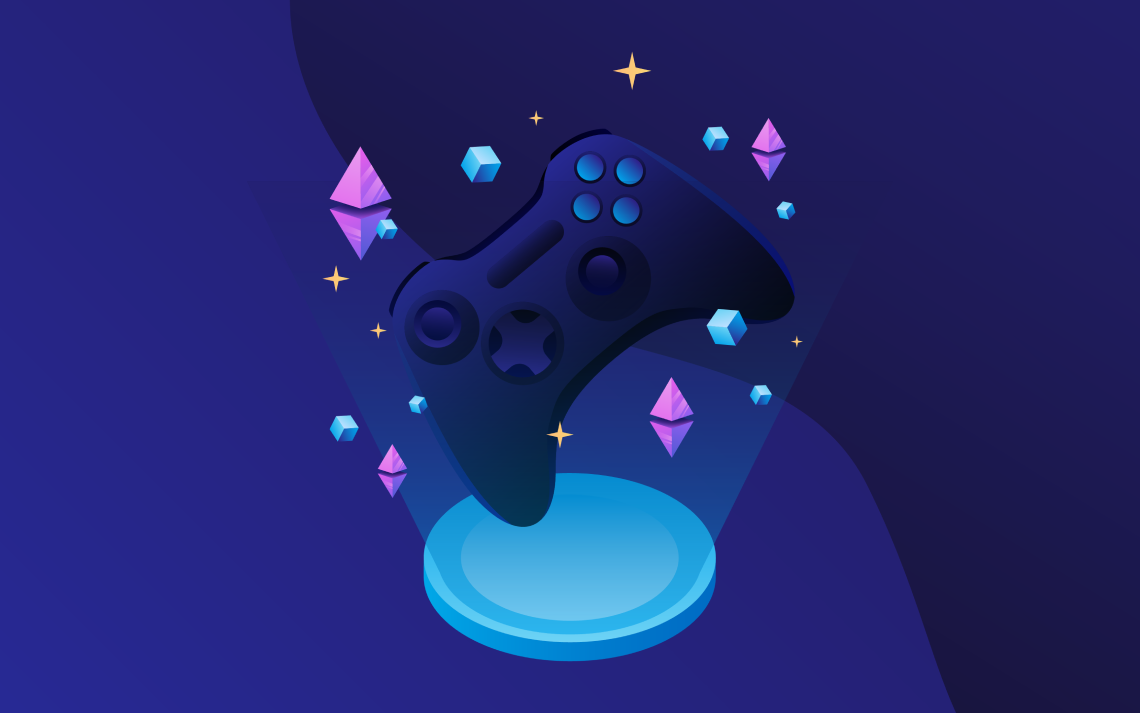 Blockchain in Gaming – All You Need to Know
Mobile gaming is currently the most popular form of gaming with over 14.4 billion games downloaded across the App Store and Google Play. The concepts of game monetization, freemium, and advergaming have made mobile games a highly profitable segment of the tech sector.
Users today can purchase in-game assets with fiat currency, however, they do not truly own the asset. They merely have access to it.
With the advent of the blockchain, users can now access secure platforms to sell/barter in-game currency, have secure decentralized server caches to store in-game assets, and truly own the assets they have purchased. But this is just the tip of the iceberg.
What Is The Blockchain and What Roles It Plays in Gaming?
Let's begin by demystifying the latest tech buzzword: Blockchain. In layman's words, the blockchain is a decentralized distributed ledger that records and enables secure transactions without users having to pay a third-party transaction facilitator (generic banks) their middle-man fees.
Also, the blockchain in gaming witnessed a valuation of $4.9 billion in 2022 and is expected to grow to $818.5 billion by 2032 at a CAGR of 66.5% for the timeline 2023-2032.
But how's blockchain utilized in games? You must be very curious to know about the roles blockchain plays in transforming gaming.
Well, blockchain gets the attention of all NFT and cryptocurrency users and web3 and metaverse lovers out there with an undying interest in gaming and making in-game purchases. So, you can utilize blockchain in gaming in the following ways:
Cryptocurrency
Cryptocurrency is a virtual cryptic currency that facilitates secure transactions with end-point verifications. But how is cryptocurrency utilized in gaming? As per an old report, gamers are around one-third of the population globally, from which around 41.9 million gamers were using cryptocurrency.
Apart from being a virtual and cryptic currency, cryptocurrencies are utilized normally as we make online transactions. So, in gaming, cryptocurrency is mainly utilized to make in-game purchases, like power-ups, characters, costumes, avatars, lifelines, etc. These types of games supporting purchases using cryptocurrency are known as crypto games.
NFT
NFT stands for non-fungible tokens, also known as cryptographic assets with proof of immutable ownership stored on the blockchain. With the utilization of web3 technologies and blockchain in gaming, NFTs can be utilized in any form, such as images, music, skins, cards, or any other digital asset. Such games are known as NFT-based games.
The hype about NFT in Gaming is real, as it facilitates players an opportunity to own and manage their digital gaming assets and even trade/sell their gaming NFTs.
Play-to-Earn
Blockchain has introduced a new genre in the games we all know as Crypto Games or Play-to-Earn Games that allow users to earn or spend cryptocurrencies in a game. These games also allow players to add & convert their money into cryptocurrencies and vice versa.
So, the process is to install that game, play it, and collect its rewards in the form of cryptocurrency, which can be redeemed to purchase real-world goods and services.
Pay-to-Earn
The concept of Pay-to-Earn generally applies to NFT-based games, where players have to make in-game purchases, such as buying NFT tokens.
Although such a type is named pay-to-earn, these games only cover the "Pay" part. Here, the concept of "earn" is considered the valuation of the in-game assets you have purchased, which vary based on the performance. Additionally, to earn the most value from purchased assets, players have to make strategic decisions. The good part of this is that the value of such assets often grows with time.
Moreover, players also have the freedom to sell these assets without any meddling from the regulator or game developer.
Virtual Events and Tournaments
In the gaming industry, we have seen many virtual events and tournaments which play an important role. But the problem with such events is the flawless tracking of event registration and rewards earned by participants.
Thanks to blockchain, the management of virtual gaming events and tournaments has become easy. The Blockchain-powered gaming solutions are filled with the ability to track every action happening across the tournament and verify rewards by respective participants.
Moreover, you can implement and integrate blockchain-powered payment gateways to offer your players a secure channel for effortless online payment transactions.
GameFi
Blockchain technology has introduced use with the term decentralized finance, giving users the freedom to manage their finances with top-notch security without worrying about the interference of any regulatory parties.
By merging gaming with decentralized finance (DeFi), you can create a new system called GameFi that allows players to earn while playing your games and use their earnings to purchase goods and services of their choice, just as we have seen in the above section – Play-to-Earn.
How is Blockchain Redefining The Gaming Industry?
Let's read on for everything you need to know about how blockchain tech is redefining the gaming industry in 2023:
Make In-Game Transaction Faster, Easier, and More Reliable with Cryptocurrencies
As a game developer, integrating in-game payments is essential to overall profitability. However, transactions through 3rd party payment providers to process fiat currency transactions are often unreliable, expensive, and quite cumbersome to integrate.
With cryptocurrency transactions users can easily make in-platform payments without having to worry about issues like platform stability, transaction security, and asset storage.
Access to a Safe and Secure the Game Environment
Thanks to the highly effective data encryption technologies (private key-public key) crypto token transactions on decentralized blockchain networks are highly secure and invulnerable to traditional server-targeted hacking. Even the much feared 'Distributed Denial of Service' (DDoS) attacks are ineffective against the blockchain.
Therefore, as a game owner or a game developer, with blockchain tech, you are immediately presented with a secure environment where you can both develop your game and monetize it.
Buy And Sell In-Game Assets Securely
Despite the fluctuation in cryptocurrency evaluations, there is still a massive amount of popular interest in crypto tokens.
Making crypto tokens in-game currency can add 'pop' value to your game as well as offer a highly secure method of transactions and monetization. With web wallets, users can keep their digital currencies secure from malicious hackers while also acquiring a safe and dependable transactional platform.
With private keys offered by the blockchain, security is assured, and coupled with positive security practices like regular back-ups and secure surfing, users can rest assured that their assets and money are safe.
Acquire Interoperable Profiles Of Players
Wouldn't it be awesome if you could transfer all the in-game currency you have earned in Halo Infinite to your NFS Unbound profile?
While Microsoft and EA still haven't worked out the intricacies of interoperability at this scale,( we really hope they do so) several blockchain games (albeit ones under the same parent organization) offer interoperability where user stats and resources can be transferred to completely separate games.
Players can access their assets and their unique public addresses across games thus facilitating boosted game time and brand loyalty.
Players can Securely Store In-Game Assets on the Blockchain
Centralized servers are every hacker's favorite prey. A centralized server is a stationary and in all fairness, a rather easy-to-pick-off target. All a hacker needs to do is break the encryption and take all the assets stored on the server. But the scenario is quite different with the blockchain in the picture.
If a player buys digital collectibles on a blockchain-based game, crypto wallets offer the perfect option for secure storage.
Players can Truly Own Their In-Game Assets with Blockchain Gaming
We've mentioned this aspect of the blockchain in the beginning of this post. Now, let's dig in a little deeper. In the current scenario, players don't really own their in-game assets. Thanks to the smart contracts offered by a blockchain-based game, all transactions within it are executed once the coded-in conditions are met.
When a blockchain-based game is launched, all the in-game assets and stats of the player are transferred to his unique public address, accessible only by him. Since the public address of the user cannot be changed by a centralized agent, ownership transfers of in-game assets are only possible when authorized by the original player.
Players and Developers can Collaborate over the Blockchain to Build Better Games
Blockchain tech is transforming the gaming industry thanks to the lucid communication between players and developers. Given that decision-making on blockchain, apps is governed by its community consensus and not top-down controls. Hence, players now have the option to protect their stake in the game.
Most blockchain game developers proactively invite player feedback to enhance game UX, appeal and playability of their games. If the community is in agreement, the change/upgrade will be implemented.
Create Ultra-Rare In-Game Assets with Real-World Value
Rare digital assets are becoming a massive source of income. As the blockchain has the ability to project real-world value to a digital asset, in-game collectibles are reaching astronomical prices. As the sector's revenue is driven up resulting in the creation of even rarer assets.
With the " If-Then-False" conditions offered by blockchain smart contracts, specific patterns of interaction produce hyper-rare and immensely coveted game collectibles.
Acquire Tangible, Real-World Value from In-Game NFTs
NFTs (Non-Fungible Tokens) created from in-game graphics can be used to purchase assets or be traded for NFTs from a different user. These digital assets carry a real-world value that can be exchanged for fiat currency.
NFTs also serve as digital 'pink slips' to bragging rights and could be anything from a screenshot of the score the user has reached within the game or a specific form of customization/skin he has created or purchased. With the advent of NFTs in blockchain gaming, users can now truly own their in-game assets.
Play-to-Earn Systems for Professional Gamers
While live-streaming is still the most popular method deployed by gamers to earn money, crypto games are a close second. Crypto games allow players (after they pay a fee) to compete and earn by beating benchmarks or other players. The game could be a round of poker or an NFSesque street racer.
The cryptocurrency that gamers earn after winning in these games can then be exchanged for fiat currency.
The ethos behind a crypto game is to encourage a player to keep returning to the game by incentivizing him with crypto assets that carry actual monetary value.
Effective and Revenue building Rollouts of Virtual Gaming Tournaments
The gaming industry continues to host many gaming tournaments from time to time. But the foundational costs of such events can be very high. Organizers have to shell out for venues, prize pools, and management and administration teams.
With the blockchain tying into gaming, the task before the organizers becomes an easy one. The most pressing issue in virtual tournaments is tracking whether or not an entrant has received his winnings post a match.
Thanks to the hyper-accurate traceability of a blockchain transaction, organizers can track payouts as well as encourage trading for added revenue.
Augmented User Experience for Serious Gamers
Given that the blockchain integrates a pay-to-play and system for crypto-games, professional gamers naturally look for a reason to invest their resources into a game. Even though a gaming company may offer prizes, transactions made as payouts for gamers are neither secure nor transparent.
This can prove to be a massive issue as it would hurt the reliability of the organizers/the gaming studio.
The blockchain steps in to save the day by offering enhanced levels of control over not just the transactions but the entire gaming experience.
Gamers can now build bespoke characters, choose their own story and create unique play styles given the massive amount of customization that can be supported by a blockchain shard.
Challenges Faced by Blockchain Technology in the Gaming Industry
Even as blockchain tech is consistently opening up new inroads to secure game monetization for businesses, given that these are unchartered waters, there are a few challenges that the technology faces when deployed to the gaming industry. Some of these challenges are enumerated below:
Complexity
Building crypto games isn't all that difficult. But getting a first-time user on board a crypto game is relatively complex. For a user to start playing, user account creation is the first step. Now, this is by no means difficult but it may dissuade users who want an instant fix and are instead faced with a sign up form.
The second issue is that for the user to begin playing he must set up a crypto wallet and then purchase a certain amount of crypto. This is a significant barrier to entry as it makes the game a pure pay-to-play system which isn't very popular in traditional gaming spheres.
Regulatory Hassles
While Bitcoin and Ethereum have gained credibility over the long run, newer cryptocurrencies like MANA or Theta pose a challenge as regulatory bodies are still in the dark about how these currencies function and whether they can be securely deployed to blockchain gaming.
Stiff Competition
It goes without saying how competitive the gaming industry is. With new development platforms and games being released every day, it becomes difficult for blockchain games to compete in an arena dominated by traditional games. That being said, blockchain games have their own audience and their popularity is on a steady rise.
The Best Blockchain Games in 2023
The gaming sector sports numerous blockchain-based games. Now that we have covered how the blockchain is critical to the evolution of the gaming industry, let's touch upon some of the most popular blockchain games of 2023.
CryptoKitties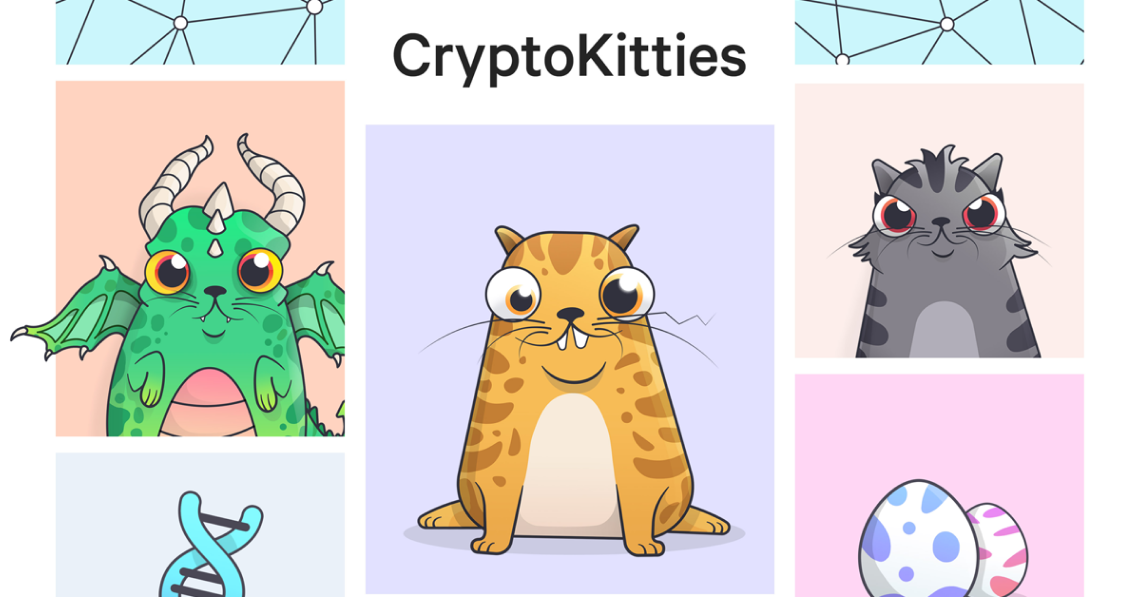 CryptoKitties was launched in November 2017 and it is one of the first blockchain-based games to become available to players. As of 2023, it is by far the most popular game built on the world's second-largest crypto token, Ethereum.
The idea behind the game is to create new generations of digital kittens and breed in unique traits that make these digital pets valuable.
Users can trade their kittens in the open marketplace of the game or put them in storage until their value appreciates. With features like each kitten having a distinct personality and physical attributes like fur patterns, eye shape, mouth shape, color and accessories, Krypto Kitties is the perfect place to build your very own litter of collectible kitties and make money while doing so.
Decentraland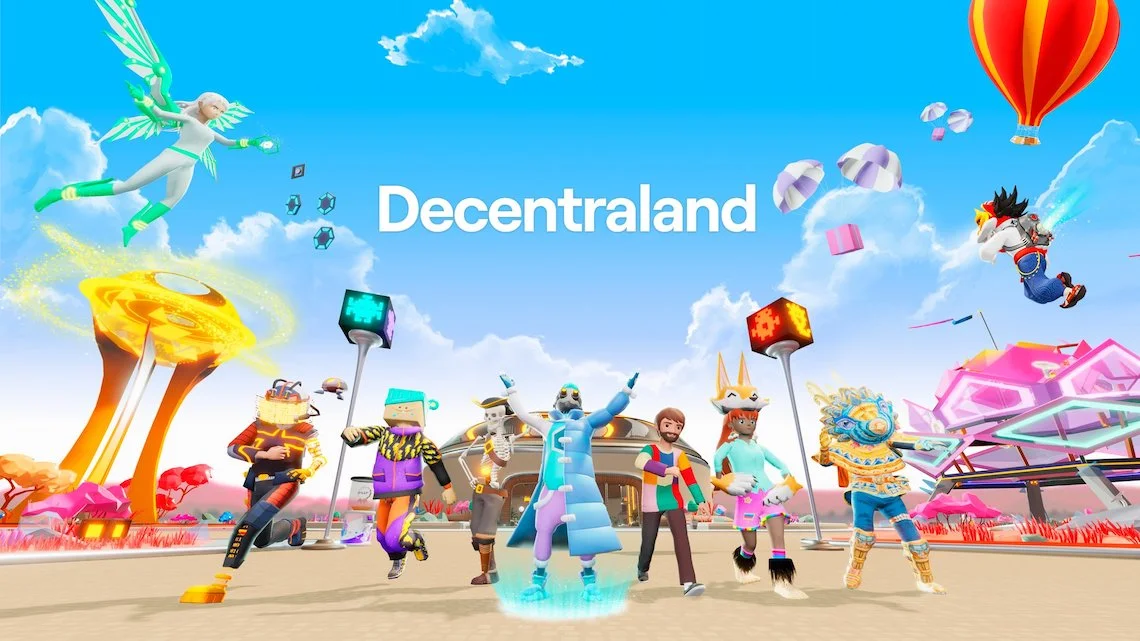 Decentraland is a 3D virtual reality game that deploys blockchain tech to create a decentralized open world. In Decentraland, players can create content, monetize it, purchase experiences and assets and even build applications.

In Decentraland's virtual world, players can walk about and explore just as they would do in a new city in real life. In Decentraland, users can pay in crypto to play games, join in on group adventures, enter elite clubs, and purchase properties and assets owned by other users.
Gods Unchained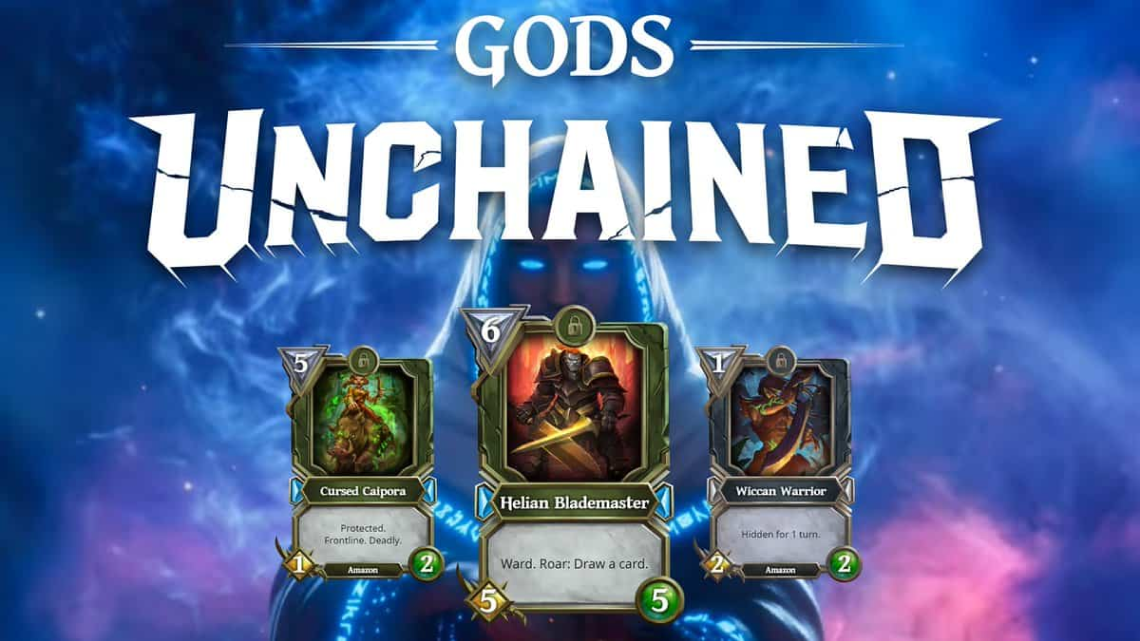 Now that we have spoken about Virtual worlds and virtual pets, it's only fair that we speak about the ever popular collectible card game, Gods Unchained. Gods Unchained relies on the Ethereum blockchain to track card ownership.
The cards in the game are monetized digital assets that are kept secure by a public as well as a private key. These assets cannot be modified or copied without the owner's consent making each card unique, and in the process, highly valuable.
The God Unchained cards can also be traded directly among players without having to access the game's marketplace. Given that the Ethereum blockchain secures them, the threat of your assets being hacked are close to nil.
The Future of Blockchain in the Gaming Industry
We have already discussed a few examples of how blockchain tech can be deployed in the gaming industry. The crux of a successful blockchain game is its user experience, transaction security, and transparency. Storage is also a potent factor contributing to the popularity of a blockchain-based game.
With many enterprises turning towards blockchain technology for their gamification initiatives, the future looks bright for crypto. Many industry head honchos believe that crypto and blockchain are the future of gaming.
Today, the games we play have become increasingly realistic while in-game items have real-world value. It is therefore critical to implement blockchain capabilities into your game if you wish to keep ahead of the competition.
The social aspect of gaming is becoming increasingly crucial to the overall experience of a game. A recent survey stated that 84% of respondents felt that playing video games was a mode of socializing and connecting with people with similar likes and dislikes.
The same study reported that over 3/4th of respondents stated that they have more social interaction in the virtual world as compared to in-person encounters.
Additionally, as blockchain technology continues to evolve both in terms of properties and adoption, enterprises can expect to see a growing number of features and use cases for blockchain tech in gaming.
From fast and ultra-secure transactions to decentralized virtual worlds and digital assets, blockchain tech in gaming is here to stay.
Planning To Build Your Own Blockchain-Based Game?
It goes without saying how massive the global gaming sector is. With revenue in excess of $198.40 billion, the gaming industry has sufficient wiggle room for new blockchain-based entrants. In our opinion, gaming, and blockchain tech complement each other perfectly, and all you need to build the perfect blockchain-based game is the right partner.
At its core, 300Mind is a gaming company of 2D/3D artists, Motion Graphic Designers, Game Artists, and Game Developers who are creative thinkers and the right-fit game development team to hire for your next game development project.
Interested in building the next blockchain-based blockbuster? We are just a click away. So, share your game requirements today to get a quick cost and time estimation!
FAQs for Blockchain in Gaming
Which blockchain is best for gaming?
Well, there are several blockchains you can use, but the Ethereum blockchain is the most trusted one that is extensively utilized for blockchain-powered game development.
Is blockchain gaming profitable?
Indeed, blockchain gaming is profitable for players as well as game developers, but the profitability depends on the type of blockchain in gaming use cases.
How much does it cost to develop a blockchain game?
Well, it's hard to guess the cost of developing a blockchain game as it can depend on various factors, such as the type of game concept, the complexity of the game, game design and graphics requirements, blockchain integrations, the experience and country of the game design and development team, and much more.